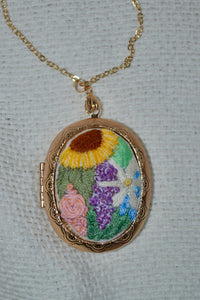 Custom Hand Embroidered Locket
These beautiful lockets come in gold or silver finishings, and feature custom floral embroidery designs on a cream fabric. 
The embroidery face will be 1" x 1.5", with the locket itself being slightly larger.
The floral embroidery will fill the face of the locket, and you will choose the color scheme or florals. You may also opt for a single flower. You may also choose to do only greenery instead of florals. Please specify at checkout. 
If you would like a different design on a locket, please contact Mar for a quote.